Sell with a Story: Tanzanite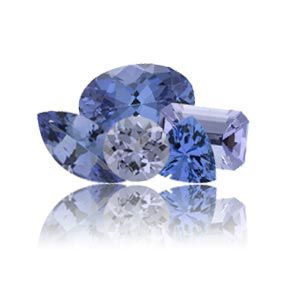 Discovered in 1967, Tanzanite is a newcomer to the gemstone pool yet it has succeeded in making a very large splash. Following diamonds, ruby, sapphire, and emerald, Tanzanite is the most sought after gemstone. What it lacks in ancient history, it more than makes up for with its beauty and rarity that vaulted it into the highest echelons when it became a Tiffany's favorite.
Who discovered tanzanite?
Want the short answer? There isn't one because we don't know. Here are the details. Many believe Ali Juuyawatu, a Masai tribesman, found it July 1967. Mistaking the crystals for sapphire, he told a friend, tailor/prospector Manual de Souza who in turn staked a claim in the area, the Merelani Hills near Mt Kilamanjaro. It may well be that Juuyawata chose the wrong man to trust because de Souza later claimed to have made the discovery. He provided quite a story of the event, one that featured a stubborn driver who refused to go beyond Merelani and four Masai tribesmen who acted as de Souza's porters.
What is it?
Certainly the first Tanzanite claim was filed in de Souza's name on July 25, 1967. Soon after discovery, de Souza realized — or whoever he consulted realized — that the crystals were too soft to be sapphires. They were closer to olivine in hardness and crystal structure and so the first claim was staked as olivine.
Still another version
Other people attribute tanzanite's discovery to Ndugu Jumanne Ngoma, also a Masai tribesman. Here he recounts the day he found "blue crystals" to author Valerio Zancanella.
I found the tanzanite in Merelani, Arusha, in the area called Kiteto at the beginning of January 1967. I was on my way to visit some of my relatives who live in Kiteto, when walking through the bush I saw some crystals of a blue mineral lying on the ground. There were very nice… They were blue, some were transparent… In a few hours I collected about 5kg — they were all very lovely blue crystals.

A friend told me to get on the bus and go to Nairobi… where there was a much bigger gem market than in Arusha. So I borrowed some money for the journey and went to an overseas company who deals in precious stones… and I let them see the 5kg of tanzanite. They didn't even know what the mineral was. They told me, though, that as soon as they knew, they would let me know. I left them with the 5kg of tanzanite in exchange for a return ticket home, worth $5.… 33 years have gone by and I'm still waiting for their answer! But I kept some samples for myself.
Decide for yourself
You'll have to decide for yourself who found the gem and when: January or July. Did one of the Masai tribesmen totally familiar with the territory chance upon it? Or did de Souza, a native of Goa, India, have a lucky day? Either way the jewelry industry had a gorgeous, nameless gemstone, rich blue like sapphire but with lilac overtones resulting from dichroism.
Naming Rights
Tiffany's has played a major role in transforming lesser-known colored gemstones into true stars in global demand. Alexandrite, Morganite, Kunzite — named after the store's famous colored gemstone specialist, George Kunz — and Tanzanite, all rose to fame as discoveries embraced by Tiffany's. At the time Tiffany's first saw tanzanite's radiant hue, it had no name. Tiffany's remedied this promptly naming it after Tanzania, its country of origin. Did they have a crystal ball? We'll never know, but so far Tanzanite has not been discovered in any other country.
Let's get techical
Tanzanite is 6.5 on the Mohs scale. Mysteriously, it belongs to the zoisite mineral family along with ruby zoisite and thulite. Neither of these comes even close to Tanzanite's transparent blue splendor — part of the reason the stone was difficult to identify. Generally when Tanzanite is mined it is trichroic shifting from brown/burgundy to blue and violet depending on the light. Today most tanzanite is heated to eliminate the brown/burgundy range. Typically this takes place after mining, but sometimes heat generated through metamorphic occurrences causes this beautiful change and the gem emerges dichroic. Needless to say, these are more expensive stones.
Powered Up
In ancient times with limited medical resources, healers relied heavily on the powers of gemstones and diamonds to affect cures or at least improvements to various physical and emotional ailments. Just as likely, gem traders traveling their routes relied on these powers to sell their wares. I can easily imagine them adding powers to meet a buyer's needs and thus make the sale — powers that then attached themselves to the lore. For a gemstone with less than 50 years under its belt, Tanzanite has already acquired substantial gifts and they're most definitely sale-makers. Here's a helpful list of the ways in which Tanzanite can transform your customer's lives. It —
Raises consciousness —definitely a late 60s phrase.
Awakens our hearts, another late 60s reference.
Elevates mood.
Dispels bad habits.
Helps you explore inner and spiritual worlds revealing dimensions not accessible to others. I'll refrain from the obvious comment.
Transforms negative energy into positive energy.
Reveals your true calling in life — wow! A huge percent of our population is seeking this knowledge.
Helps you recognize your own strength.
Allows you to speak the truth.
Encourages generosity and friendship.
Helps with meditation and relaxation.
Are you ready to sell?
Between these powers and tanzanite's beauty, it's easy to see why women love it. Yet the italicized powers relate to men as well and I can see the women in their lives choosing it for a gift if they know about these powers. You'll find tanzanite in all the right shapes and sizes in our Black Box Gemstones® and calibrated gemstones. With these, you have all the selling power you need.
Originally Written by Elizabeth Raffel for Stuller